550
PVC/wood frame | Welded PVC panels
FEATURES:
Higher quality and performance.
Double or triple sealed units provide greater weather tightness, comfort and energy efficiency.
Maintenance free welded PVC construction combines a structural wood core in the frame for added strength and easy installation.
Frame depth from 5 1/2" to 11 3/4" to suit your installation requirements.
Tandem wheels for easy and smooth operation.
Quick draining door sill sloped at 9°.
Integrated white or satin grey blinds with Low E glass, available.
Sizes up to 12' x 8' (W x H).
All products come standard with sealed unit with tempered glass and non-conductive spacer.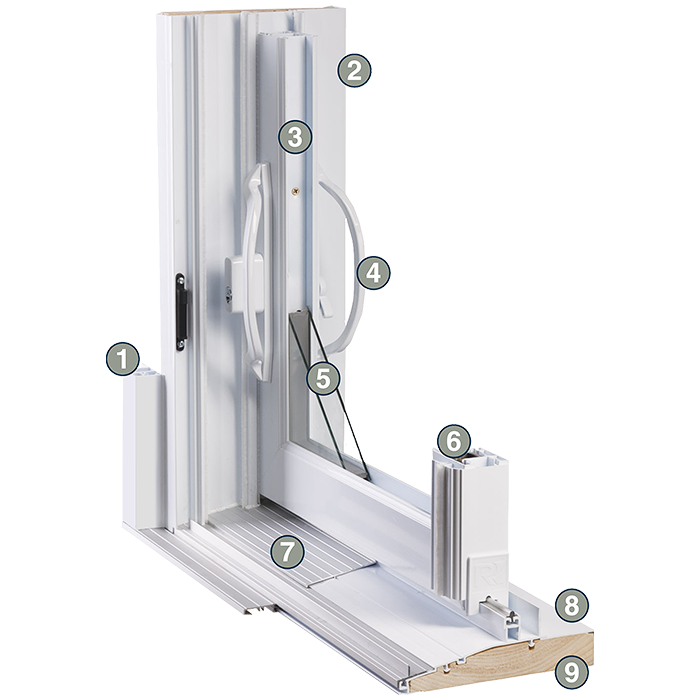 1.
"Four in one'' exclusive (optional) welded PVC brick mould with anodized aluminum sill extension and integrated nailing flange
2.
PVC cladding (optional)
3.
PVC panel
Welded at 45°
Double wall for improved energy efficiency
Stylized interior glazing stops
4.
Standard "Prestige" mortise handle / Keyed lock (optional)
5.
Sealed unit with tempered glass and non-conductive spacer
6.
Steel reinforcing in the vertical stiles
7.
Aluminum sill cover (optional)
8.
"Double protection" sill offering B-4 performance, with a seamless PVC wrap
9.
PVC-clad wood frame from 5 1/2" to 11 3/4" in frame depths